The Y2Y mission has inspired filmmakers, educators and others to create materials explaining how we accomplish our work, as well as the scientific concepts behind them.
See below for some of these materials and resources and feel free to view, download and share it with others!
Wild Ways on PBS Nova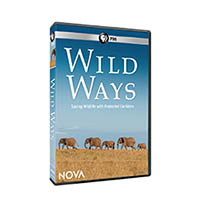 Originally airing on PBS Nova in April 2016, Wild Ways: Corridors of Life explores the cutting edge of conservation biology to discover how the world's parks and preserves can be connected and better function as the last enclaves of wild nature.
Wild Ways takes viewers around the world to some of the most dramatic natural areas on earth where conservation biologists are helping vanishing species with innovative solutions — including what we do at Yellowstone to Yukon Conservation Initiative. Learn what large animals need to thrive: room to roam, neighboring populations for genetic diversity, and connected ecosystems that allow migration and adaptation to a changing climate.
Find out more on PBS Education's site, with background material, teaching tips, worksheets, video clips and more.
---
Corridor Ecology: Linking Landscapes For Biodiversity Conservation And Climate Adaptation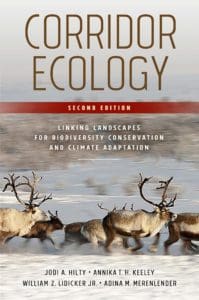 Published in 2019 by Island Press, the second edition of Corridor Ecology: Linking Landscapes for Biodiversity Conservation and Climate Adaptation captures the many advances in the field over the past ten years. One of the book's authors is Yellowstone to Yukon Conservation Initiative's chief scientist and president, Dr. Jodi Hilty.
Building on concepts presented in the first edition, this new and expanded edition focuses on the importance and practical details of maintaining and restoring land connectivity. A new chapter considers the effects of climate change on habitat and offers recommendations on designing effective corridors as landscapes change with shifting climate conditions.
The book also includes a discussion of corridors in the air for migrating flying species as well as coastal connectivity. This book was written in the hope that we can prevent further fragmentation, to restore connectivity at all scales, and to make the world healthier for all its inhabitants.
Buy the book at a book retailer near you or online (in print or e-book format) at Island Press now.
Part of the book's release was lesson plans for bringing in elements of the material to junior high and high school classrooms. Please review the materials below:
Stakeholder exercise. In this activity, students role play different community interest groups in a mock stakeholder engagement meeting to evaluate a proposed wildlife crossing structure as a solution to the high rates of wildlife-vehicle collisions on the highway each year. Students will discuss the costs and benefits of wildlife crossing structures and analyze the various perspectives of this "real life" issue.
Wildlife poetry exercise. Students will evaluate the Bear 148 case study and create a poem based on their reaction to the case. Bear 148 was a female grizzly bear from the Bow Valley in Alberta Canada. She had negative interactions with people near Banff National Park and Canmore and was eventually relocated to northern British Columbia where she was shot and killed by a hunter. Students will create original poems or songs to express their feelings and thoughts about this real-life story. Students will analyze and discuss the various perspectives on human-wildlife co-existence.
Habitat fragmentation and wildlife corridors. Students will discover how landscape patch size and proximity determine an organism's ability to disperse or successfully establish and colonize habitat patches, impacting extinction rates and overall biodiversity. Students will learn about the Theory of Island Biogeography, Metapopulation Theory, and habitat fragmentation.
---
From Ants To Grizzlies: A General Rule For Saving Biodiversity From Biointeractive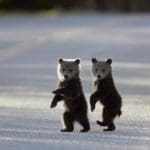 Released in June 2019 by BioInteractive, part of the Howard Hughes Medical Institute, this film and materials are well-suited for high school and college-level students.
From Ants to Grizzlies: A General Rule for Saving Biodiversity explores the species-area relationship, a general ecological rule that describes how the number of species in a habitat changes with area, and shows how it has been applied to the conservation of protected areas.
Due to habitat loss and fragmentation due to human activities, many species are being lost. One tool that scientists are using to conserve Earth's remaining biodiversity is the species-area relationship. The film begins with the story of ant biologist E. O. Wilson, who observed and tested the species-area relationship on islands. It then shows how Wilson's findings have been expanded and applied to "islands" on land, including habitat fragments in the Rocky Mountains. These studies reveal the importance of Yellowstone to Yukon Conservation Initiative's work preserving and connecting protected areas for wildlife.
These materials are suited for AP Biology (2015), IB Biology (2016), AP Environmental Science (2013), IB Environmental Systems and Societies (2017) and other curriculums.
Film: From Ants to Grizzlies A general rule for saving biodiversity from BioInteractive
Activity: Vertebrate declines and the sixth mass extinction
---
Living with Wildlife
In 2017, Canmore-based filmmaker Leanne Allison released an educational film highlighting the successes residents of Alberta's Bow Valley have had in living near large wildlife such as grizzlies and elk.
As one of the busiest places in the world where people and grizzly bears coexist, the Bow Valley sets an important example. The 'Living with Wildlife' film and video series profiles how communities have adapted to wildlife by having bear-proof garbage systems, fencing and wildlife crossing structures on highways, wildlife corridors, bear management, and education programs. The Bow Valley to is a key connection for wildlife movement between protected areas in the Yellowstone to Yukon region.
This is a partnership project between Yellowstone to Yukon Conservation Initiative, Bear Conflict Solutions, Calgary Foundation, Town of Canmore, Alberta Parks and Environment, CPAWS, and the Nature Conservancy of Canada. The series is being made available for free download for educational purposes and to share with other mountain communities seeking solutions for how to share areas peacefully with large wildlife.
Film: Living with Wildlife (full version)
Film: Living with Wildlife (full film with subtitled translations) Korean Chinese Italian Subtitles
Chapter 3: People recreating and wildlife
Chapter 4: The WildSmart program
Companion website: Living with Wildlife