The benefits of building broader support for conservation through social science research
One of the ways Y2Y advances conservation is by delivering the best available science and knowledge. This helps guide policies and actions that lead to lasting conservation outcomes in the Yellowstone to Yukon region.
We work with partners to collect and analyze data to inform pressing challenges facing specific species and to highlight the cumulative effects on water and land that are crucial for maintaining ecological connectivity.
This provides society with information that can effectively conserve wildlife and wild places by increasing awareness, advocating for change, and informing decision-making processes.
Yet it is humans that are at the root of all conservation challenges and opportunities. Conservation policies and actions are the result of human decision-making processes that impact human communities and often require people to change their behaviors. In this way, conservation is inherently a social process.
This is why the Y2Y mission includes people — a necessity as it is people who shape environmental change for better and worse, and build resilience into the lands, waters and wildlife across the region.
As a science-based organization then, we can also use science to gather information about how people live, visit, and play in the Yellowstone to Yukon region. Whether it is learning what motivates people to get involved in conservation actions or informing development decisions that support connected landscapes, working with diverse groups of people can help to fill knowledge gaps and inform effective, long-lasting, conservation policy and practice.
Improving people and nature's well-being through research
Conservation social sciences offer an effective way to better understand how people impact and change the region. Historically, when conservation as a scientific discipline formed in the 1960s its practitioners focused heavily on actions that prioritized the preservation of wild and intact natural habitats. 
Today, conservation research has become more interdisciplinary. Decisions are no longer made in a vacuum but integrated with other elements of science and knowledge. Two recent examples from the Yellowstone to Yukon region show how the conservation social sciences can inform decision-making as it relates to outdoor recreation and the management of human-wildlife conflict.
When it comes to people recreating, better knowledge means better planning and better experiences in nature. This makes sure folks can get outside and have fun while sharing space with wildlife — and other people.
For conservation solutions related to human-wildlife coexistence, understanding the attitudes of ranchers or landowners towards carnivores can help improve and expand efforts to reduce conflict with wildlife. Insights from the social science in this example helps avoid situations that end badly for the people or bears…or both.
Exploring and developing the conservation social sciences in the Yellowstone to Yukon region
Now, a new social science research project, led jointly by Y2Y and the University of Northern British Columbia, is exploring the ways to improve what we understand about human impacts across the landscape. This work will increasingly include Y2Y partners, Indigenous and non-Indigenous governments, land managers, scientists and people like you.
Over the course of this multi-year project, scientists and other experts will identify priority research themes, conduct research, build a stronger social science community across the region, and integrate social science research into Y2Y's decision-making and program work.
The goal is for Y2Y and partners and across the region to make conservation decisions that are more equitable, effective, and durable by considering how decisions about nature may impact diverse human communities.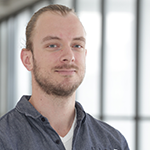 Dr. Devin Holterman is the postdoctoral fellow heading this research project.
"To give the animals, plants and people in one of the world's remaining intact mountain regions a fighting chance against various threats, we need to take action today. Using new social science research along with diverse knowledge systems, we will collaborate with researchers and communities to create a more resilient Yellowstone to Yukon region, together," says Dr. Holterman. "The timing of this work is crucial as there is an urgent need to build an even broader base of support for conservation."
According to Dr. Holterman, initial research from this project has already surfaced several key questions related to the Yellowstone to Yukon region for researchers to tackle in the years to come.
One example is how people can better manage the impacts of rapidly expanding outdoor recreation while ensuring the human well-being, economic, and health benefits of recreation are equitably distributed. Or, what are the most effective strategies for getting decision-makers to act in the name of nature's protection?
"We are learning more about why people like you speak up for nature, what actions lead to improved conservation decision-making, and how to manage the impacts of outdoor recreation and tourism in an environmentally sustainable way."
Better knowledge leads to a better future
This improved understanding is already informing Y2Y efforts. In future it will be shared with partners and decision-makers, such as government representatives, to ensure conservation decisions and policy are made with the best available information.
"Our work also involves synthesizing and communicating existing research and delivering the most up-to-date social science to decision-makers and partners throughout the region. We are working closely with Y2Y staff and partners to share research findings about, for example, the social, cultural, and economic benefits of Indigenous-led conservation, the latest research on outdoor recreation, and much more," says Dr. Holterman.
In exploring the ways people's work, play and travel impact decisions made on the landscapes, we are filling in gaps related to development decisions and understanding how communities engage with nature.
This is essential, because for the Y2Y vision to be successful, policies and decisions throughout the region must provide for the integrity of ecosystems and the well-being of the people in this diverse place. From land-use planning to wildlife crossings, and strong proposals for Indigenous Protected and Conserved Areas, data and knowledge play a major role in developing strong options for communities and governments to consider.
"The need for this work is strong, and I'm proud to be exploring how it best fits into the Y2Y mission and vision to help the many animals, people and other species who rely on connected, thriving region," says Dr. Holterman.
Learn more about other research projects at Y2Y, or read Advancing Evidence-Based Decision-Making in Large Landscape Conservation Through the Social Sciences: A Research Agenda for the Yellowstone to Yukon Region.
Supporting partners
This multi-year project is a collaboration between Y2Y, University of Northern British Columbia (UNBC) and others.
We are grateful for project support from our funders who include an anonymous donor through Y2Y, the Wilburforce Foundation, and the Mitacs Accelerate program.
References and additional reading
Holterman, D., Pamela Wright, & Aerin Jacob. (2023) Advancing Evidence-Based Decision-Making in Large Landscape Conservation Through the Social Sciences: A Research Agenda for the Yellowstone to Yukon Region, Mountain Research and Development, 43(4), A1-A10. https://doi.org/10.1659/mrd.2023.00008
Mascia, M.B., Brosius, J.P., Dobson, T.A., Forbes, B.C., Horowitz, L., McKean, M.A. and Turner, N.J. (2003), Conservation and the Social Sciences. Conservation Biology, 17: 649-650. https://doi.org/10.1046/j.1523-1739.2003.01738.x
Neumann, P. and Mason, C.W. (2019) Managing land use conflict among recreational trail users: A sustainability study of cross-country skiers and fat bikers. Journal of Outdoor Recreation and tourism, Vol 28. https://doi.org/10.1016/j.jort.2019.04.002
Sage, A.H., Hillis, V., Grave. R.A., Burnham, M., Carter, N.H. (2022) Paths of coexistence: Spatially predicting acceptance of grizzly bears along key movement corridors. Biological Conservation, Volume 266. https://doi.org/10.1016/j.biocon.2022.109468
Sanborn, T. and Jung, J. (2021) Intersecting Social Science and Conservation. Front. Mar. Sci. 8:676394. https://doi.org/10.3389/fmars.2021.676394