We're lucky to have Dr. Aerin Jacob on our team as our conservation scientist. Her journey as a leader in science and conservation did, however, start long before her time with Y2Y.
"I've wanted to work in some aspect of animal biology and nature conservation since I was a kid — but also for my work to improve the lives of people," she says.
And because science, the environment, and wildlife can't speak for themselves in important social and political discussions, Aerin has been an advocate for positive change throughout her career.
In 2015, Aerin was a postdoctoral fellow studying conservation planning at the University of Victoria. She was also a Wilburforce Fellow in Conservation Science, a program for researchers to hone leadership and communication skills so that they can better inform conservation solutions.
During the lead up to Canada's 2015 federal election, Aerin planned an all-candidates' debate focused on science — the first of its kind in Canada. The incredible turnout for that event (in person and online) showed how hungry people in Canada were for political conversations about the role of science in public policy.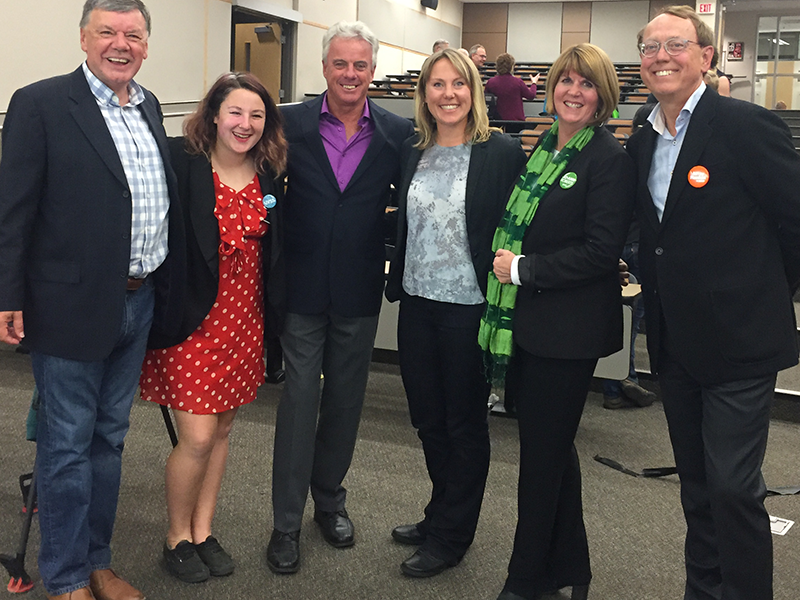 The next year, she led a national effort where nearly 2,000 early-career researchers across Canada spoke up for stronger science in environmental impact assessment — work that Aerin and colleagues have continued to-date at federal and provincial levels, and for which she was awarded the 2019 Early Career Conservationist Award from the Society for Conservation Biology.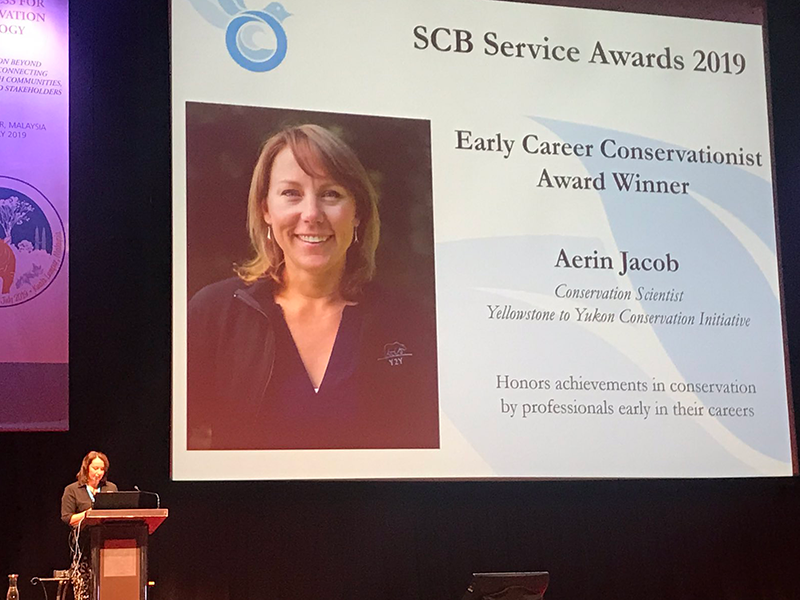 Today, Aerin works with other scientists, decision-makers, and communities across the Yellowstone to Yukon region and beyond. In her role at Y2Y, she designs, conducts, and communicates applied research to inform Y2Y and partners, including projects on species at risk, land-use planning, and the role of science in law and policy.
Her successes haven't come without their respective challenges. A good dose of courage and hope is required, which Aerin tries to bring to her work every day.
From idea to action to change for the environment
Aerin's role as a leader in conservation and science in North America was recently featured in two places: a book chapter, exemplifying a researcher who has had an impact on national policy conversations in Canada, and as part of a National Film Board of Canada video series about women working in science, technology, engineering and math.
"The world needs scientists to discover new knowledge and deepen society's understanding of grand sustainability challenges. Now, more than ever, society also needs scientists to connect knowledge to action, evaluate solutions, and contribute to sound policy," writes Stephen Posner in an excerpt from Developing Change Agents, a book that features Aerin's work.
So, when considering what it takes to be a leader in sustainability, when does the leader show up? Who's it going to be, what is their plan, and where do they start?
"Many people are worried about biodiversity loss, the climate emergency, and social and economic changes," says Aerin.
"Advocating for a better future doesn't mean you have to be the expert with a capital E, try to fix everything all by yourself, or charge out there without careful thinking."

Dr. Aerin Jacob
"Leadership comes in so many forms: we need people with vision, who bring others together, and who do behind-the-scenes work. But don't wait for someone else to show up — you can make a difference," she adds.
Other critical parts of mobilizing change include courage, community, and proper planning, according to Aerin. Building and maintaining a network of people around you who are ready to roll up their sleeves, contribute their strengths and advice, and stick with you throughout the process makes all the difference. It's no wonder Y2Y has worked with over 450 partners to get things done for nature!