BUILD STRONG, INNOVATIVE LOCAL ECONOMIES WHILE SUPPORTING NATURE
A report commissioned by the Yellowstone to Yukon Conservation Initiative (Y2Y) and produced by Alberta-based Stormy Lake Consulting shares ways in which communities in southwest Alberta can diversify local economies while supporting nature.
Addressing growing needs and competing interests
The rolling foothills and mountains along the Eastern Slopes of southwestern Alberta are home to two protected areas: Castle Wildland Provincial Park and Castle Provincial Parks. Many wildlife species — including more than 200 rare or at-risk species — are found in this important part of the greater Crown of the Continent region.
This place has rich history for many diverse communities. The landscapes are the territories of Treaty 7 First Nations and Metis Region 3, and have long been revered and protected by Indigenous Peoples.
Here, established ranches and farms run alongside industries such as oil and gas and coal mining. Nearby local governments include Crowsnest Pass, Pincher Creek, and surrounding rural areas as well as the Piikani and Kainai First Nations.
Residents and visitors love to explore, camp, hunt, and fish here with friends and family. Recently, these mountain communities have seen a significant increase in visitors seeking places to explore and reconnect with nature.
With these considerations in mind, there was a need to identify an approach to sustaining economies and nature, in perpetuity, without sacrificing one for the other.
How can southwest Alberta become 'nature-positive'?
From 2020 to 2022, Y2Y worked with Alberta-based Stormy Lake Consulting to facilitate research and discussions with local towns, municipal districts, and Indigenous groups on ways the region could attract long-term economic growth while maintaining its natural beauty and supporting watershed protection.
This is called 'nature-positive' economic development — a global movement to recognize the value of nature, place it on the path of regeneration and recovery, and transform our shared world to one where people, economies and nature thrive together. 
The research project was grounded in a socio-economic impact assessment that used national census data. The findings were verified qualitatively and broadened through community interviews and a public workshop.
The report was based on the unfiltered feedback of the members of southwest Alberta communities, Indigenous groups and community members. 
"More than food for thought, we hope this report encourages a nature-positive lens on all land-based decisions, and local action to help sustain these special and important areas and thriving communities," says Josh Welsh, Y2Y Alberta program manager.
"More than food for thought, we hope this report encourages a nature-positive lens on all land-based decisions, and local action to help sustain these special and important areas and thriving communities."

Josh Welsh, Y2Y Alberta program manager
We heard from organizations, governments, and individuals in southwest Alberta through a local advisory group, a panel of economic development experts, and community feedback sessions.
They identified three key nature-positive economic drivers for the region — tourism, renewable energy, and agriculture — which could be bolstered by supporting new and existing housing, education, broadband, business development, and communications initiatives.
These economic drivers and supporting initiatives can create net new jobs while producing both economic and environmental benefits; supporting truth and reconciliation; engaging youth or multiple generations; and amplifying existing community initiatives. 
"The 15 communities of Alberta Southwest Regional Economic Development have collaborated for more than 20 years to help each other succeed," says Bev Thornton, advisory panel member and executive director or Alberta SouthWest Regional Economic Development Alliance. "This report emphasizes that healthy communities remain creative and persistent in working to align the complicated aspects of culture, history and economy within the special landscapes we share."
Next steps
The report 'Nature-Positive Economic Development for Southwest Alberta' shows that supporting nature does not need to come at the cost of a thriving economy.
The 'nature-positive lens' could guide similar communities in Alberta as they rebound from the pandemic and transition away from non-renewable energy production and consumption.
The report serves as an information source for vulnerable communities and economies requiring good, stable jobs — while preserving clean water and healthy, intact landscapes for generations to come.
Local communities, businesses and economic development authorities can use the report in planning and development.
For more information on potential use and content please contact Josh Welsh, Y2Y program manager, at josh (at) y2y (dot) net.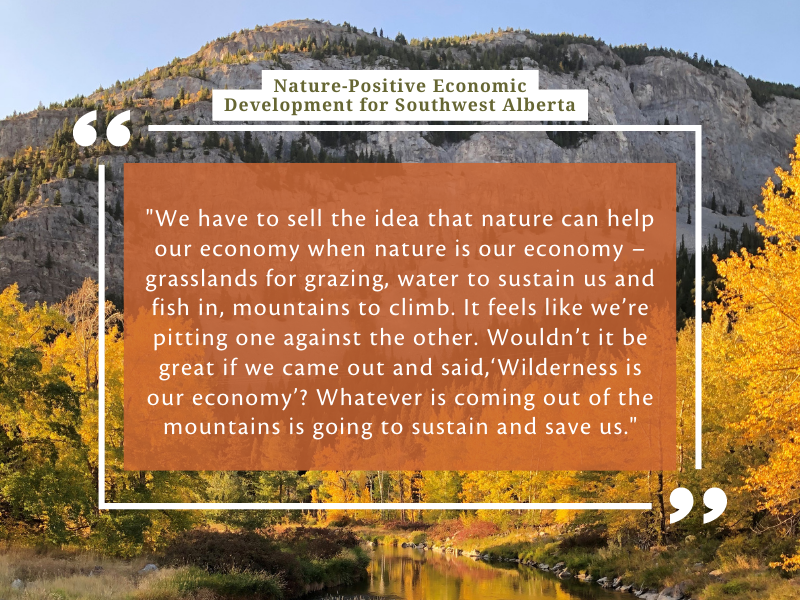 Other nature-positive work in the Yellowstone to Yukon region
This research continues the efforts of similar work Y2Y completed on the other side of the Rockies.
The towns found in the Upper Columbia, including Revelstoke, Golden, Nakusp and New Denver also depend on natural resources (for forestry and extraction economies), tourism, and recreation.
Competing interests related to industry, a quickly growing adventure tourism sector and widespread recreational use are growing — the same goes in southwestern Alberta.
This research helps address the best way to sustain the outstanding natural features of these regions for all people and uses, as well as support a strong local economy.
Additional information:
This project was generously supported by Alberta Ecotrust and the Government of Alberta's Community Initiatives Program.