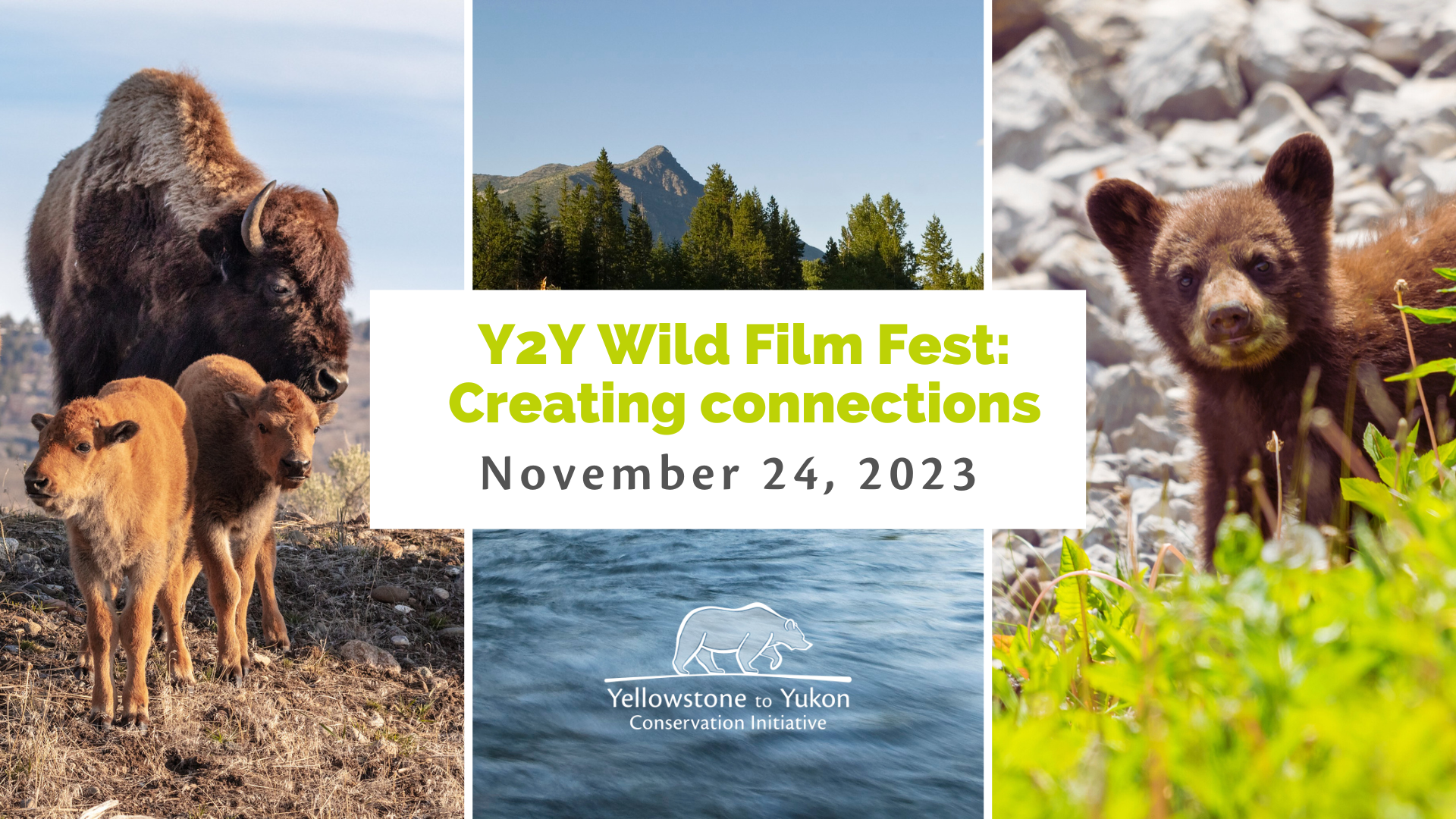 Join Y2Y for a virtual film fest focusing on how connections are critical for the well-being of wildlife and people.
On November 24, we invite you to join us online (and for free!) at the next Y2Y Wild Film Fest to experience the power of film to inspire, educate and drive action for the conservation of wildlife and their habitat.
From bringing bison back, adding more wildlife crossings to the landscape, and deep ties to the land that span generations, join us to view films that highlight the connections of people and place.
We will showcase three films throughout the day that explore a different part of the Yellowstone to Yukon region and tell a unique story of connection, restoration and hope.
Each film will be presented live and followed by an engaging panel discussion featuring Y2Y program staff and some key people involved with the films.
Especially in the face of biodiversity, loss and climate change, people and nature need connections more than ever. We hope you'll join us for the Y2Y Wild Film Fest!
Join us for all three films, or just the ones that interest you. Replays will be available to those who register until Monday, Nov. 27.
The films
The Bison Cultural Project in Mînî Rhpa Mâkoche, or Banff National Park
Showtime: 11:00 a.m. Mountain Time (online, Zoom)
"This 15-minute documentary showcases the innovative project by the same name funded by the Canadian Mountain Network (CMN), which focuses on the restoration of Plains Bison to the mountain landscapes of Mînî Rhpa Mâkoche, also known as Banff National Park."
Panelists:
Bill Snow, acting director of consultation, Stoney Nakoda Nation Tribal Administration
Nicole Olivier, Y2Y manager of landscape protection
---
How Indigenous values inspired the largest network of wildlife crossings in the USA
Showtime: 1:00 p.m. Mountain Time (online, Zoom)
"The 56-mile (90-kilometer) stretch of Highway 93 that runs through the Flathead Indian Reservation in Montana contains one of the highest densities of wildlife crossings in the world. Previously known as one of the most dangerous roads in Montana, the Confederated Salish and Kootenai Tribes (CSKT) came together to address the safety issues of the highway while preserving wildlife, through the construction of 42 highway animal crossings."
Panelists:
Alexandra Christy, filmmaker, storytelling & visual journalist
Tim Johnson, Y2Y landscape connectivity specialist

Whisper Camel-Means, wildlife biologist, Confederated Salish and Kootenai Tribes
---
Life in the Land: Amskapi Piikani – Blackfeet Nation
Showtime: 3:00 p.m. Mountain Time (online, Zoom)
"The Amskapi Piikani (People of the Blackfeet Nation) have interacted with every element of this landscape, across much of what is today known as Montana, since time immemorial. In this area of Northwest Montana, home to the Blackfeet Nation, stands the mountains which Piikani refer to as the "backbone of the world". Hear unique perspectives from Amskapi Piikani as they carry on the holistic approaches and reciprocal relationships that have always been a part of their culture and traditions, in ways that empower their community as they move into the future."
Panelists:
Kim Paul, Piikani Lodge Health Institute
Josh Welsh, Y2Y communities and conservation manager
---
Banner photos (L-R): NPS/Jacob W. Frank, Andy Wright, Shutterstock photo
Event Location
Online - Zoom webinar