Y2Y is working with its partners to protect 80 per cent of the Yukon's Peel Watershed and secure this critical core habitat. 
What's happening to Yukon's Peel Watershed?
For almost 20 years Y2Y has worked with its partners to protect 80 per cent of Yukon's Peel Watershed and secure this critical core habitat.
Almost seven times larger than Yellowstone or Jasper national parks, the Peel is one of the largest intact and unsettled wild places left on Earth. It supports abundant northern wildlife populations such as grizzly bears, wolverines and caribou, which need large intact landscapes to survive.
We are thrilled to announce that as of August 2019, a new land-use plan has been signed for the watershed. The plan commits the Parties — four First Nations, and the Yukon Government — to jointly designate 83 per cent of the Peel as Conservation Areas. 55 per cent will be permanently protected, 25 per cent will have interim protection, and another 3 per cent will be protected for boreal caribou.
This is a major step forward for conservation of the northern anchor of Yellowstone to Yukon, and in advancing reconciliation with Indigenous peoples. The land use plan applies to 55,858 km2: more than 8.6 per cent of the entire Yukon!
A history of contention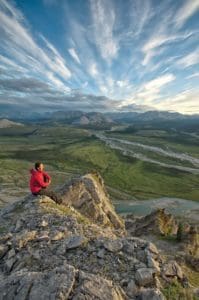 Intense, unchecked exploration for minerals, oil and gas threatened the Peel's delicate ecological balance. In 2011 a government-appointed planning commission for the Peel recommended:
permanent protection of 55 per cent
interim protection of 25 per cent
The Yukon government declined to follow those recommendations, despite having participated in the planning. Instead, they proposed leaving 71 per cent of the watershed's proposed protected areas open for mineral staking and industrial development. They also decided to allow the development of all-season roads by existing mining claimants in the remaining 29 per cent.
Several court challenges ensued. The fight went all the way to the Supreme Court of Canada, where Justice Thomas Berger argued in favor of four First Nations and two environmental organizations before Chief Justice Beverly McLaughlin.
Finally, in December 2017, the Supreme Court of Canada provided a massive legal victory for the Peel Watershed and the integrity of the Yukon's Final Agreements with First nations. Their decision compelled the Yukon Government to complete the final stage of consultation for the Peel, while limiting the Yukon Government's ability to modify or reject a plan at the final stage of the process.
The final consultations were conducted jointly by the Yukon Government and the four First Nations. The final plan was signed at a ceremony in Mayo on Aug. 22, 2019.
Who are the partners?
First Nation of Na-Cho Nyak Dun
Tr'ondëk Hwëch'in First Nation
Vuntut Gwitchin First Nation
Tetlit Gwich'in Council
CPAWS-Yukon
Yukon Conservation Society
What are we doing?
Y2Y will continue to support its partners in their work to implement the Peel land-use plan, and to protect other ecologically important watersheds in other parts of the Yukon.
"We are proud of our partners in their work to protect this important landscape, one that has sustained four First Nations since time immemorial. The Peel is a refuge for grizzlies, wolverines and caribou, still abundant in clean water and untouched lands.

The signing of the Peel land-use plan shows Yukon and Canada's commitment to both conservation and reconciliation. It has not been an easy road. In the end, this announcement is the result of Indigenous leadership, rooted unwavering in history, culture and place. We are proud to have supported them."


Candace Batycki, Director of Landscape Protection